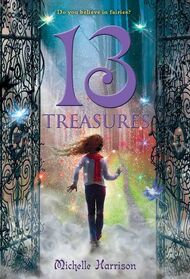 Overview
Edit
The 13 Treasures is the first book in the trilogy of the same name.
Tanya is attracting trouble like a magnet because of an ability she's tried vainly to keep at bay. After her latest endeaver, she is sentenced to the dreaded summer at grandma's. Her grandmother Florence lives on an old estate, Elvesden Manor, and it's up to Tanya, along with her new friend Fabian and Elvesden's other inhabitants, to solve the mystery that's haunted it's groundskeeper for years on end.
When Fabian's grandfather was in high school, a girl, Morwenna Bloom, disappeared. Amos was the last one to see her and was accused of her murder. But the old manor has many more secrets than the duo could have guessed. With Tanya discovering more about her lineage every day, Fabian forced to defend his family's honor, and a figure lurking in the tunnels below, it's not enough to say they've got their hands full.